At Zoe Audio Visual, audio is our first love. Nothing is better than a well tuned sound system. Let us provide your next Sound equipment rental.
We are so proud of our rates we actually publish them. Below are some packages we offer for sound systems, we use these base packages to create your quote.
Travel distances further than 20 miles from area code 75158 will have a nominal travel charge of $.75 per mile round-trip. This is determined by using Google Maps. To cover gas and other travel related expenses. Some events require two trips so be aware of that.
Sound Systems
Ideal for small to medium size Parties, Weddings, Meetings, Receptions, and other events where only moderate volume levels are required and no monitors are required.
Standard Sound package – 2000 Watts
$250 Daily Price**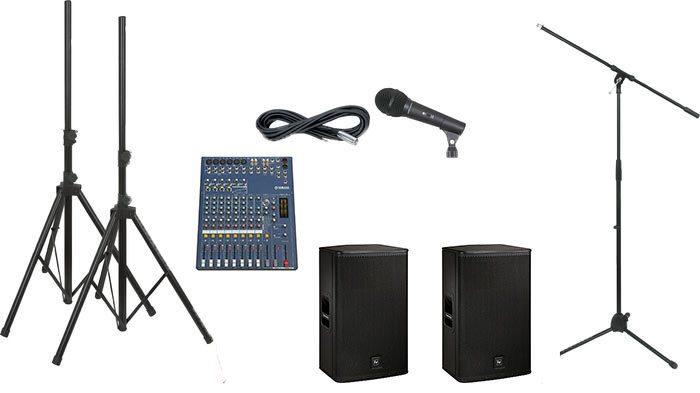 To include:
2 – Electro-Voice Powered 12″ LoadSpeaker 1000W RMS
1 – Pair Speaker Stands
1 – 12 Channel Mixing Board
1 – Shure SM58 wired Mic, stand and Cable
All cabling to interconnect system
Setup not included
** Prices do not include Delivery/Setup/Strike/Pickup
For more information about our Sound systems, Contact us for a free quote. We look forward to working with you!
Ask to add our Breakout Operator to run it.
Note: There is a 5 hour minimum for labor.
Add 1 – EV 1000 watt Powered Subwoofer for $95 a day
Add 1 – Shure BLX wireless SM58 Handheld – $95.00 a day